The German University in Cairo
January 8, 2023 – January 10, 2023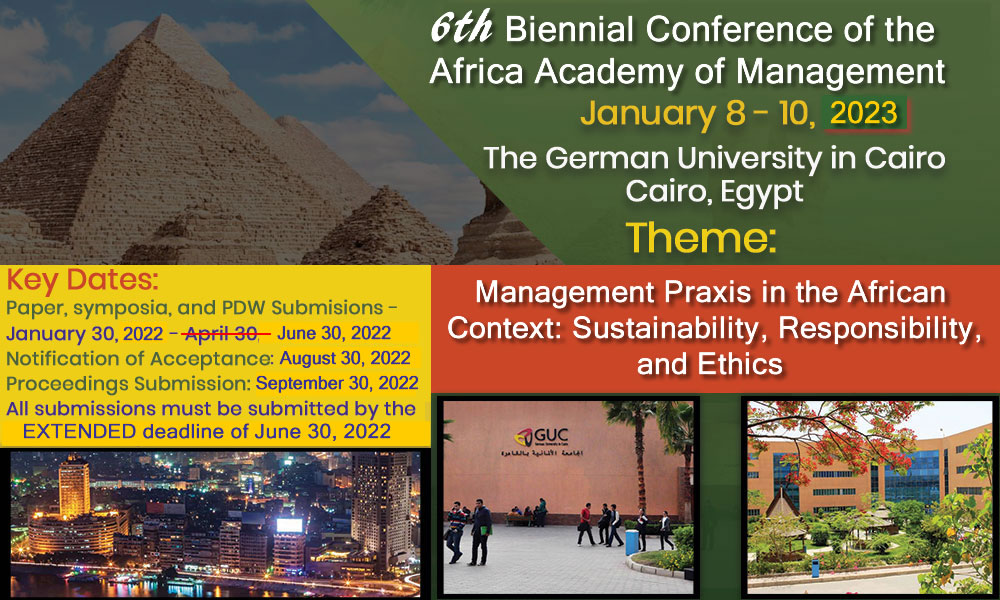 As we usher in a new decade, our nations, institutions, and communities are facing grand challenges that include the impact of climate change, corruption, poor governance, persistent inequality, and political instability which collectively, define the context of management education and practice. In considering the theme of management praxis through the lens of sustainability, responsibility, and ethics, our aim is to explore answers to questions such as:
What role does management education play in preparing responsible and ethical leaders?
How are African institutions and organizations responding to, and preparing for, the realities and challenges of climate change and other grand challenges?
How can African countries and communities become resilient in the face of the volatile, uncertain, and complex environment in which we are living?
How are different types and sizes of businesses in the continent responding to, and mitigating against climate change? How are they engaging their various stakeholders in their sustainability efforts?
In what ways can leadership development help to prepare responsible ethical leaders?
How is sustainability and ethics reflected in public policies in Africa? How can public policy initiatives advance sustainability in management education and practice in the continent?
What is the role of African leaders and managers in addressing inequalities based on gender, ethnicity, class and sexual orientation? How can management help governance in Africa through leadership, values, ethics, and culturally-appropriate practices to transform the African enterprise?
The conference will be organized around the following tracks:
Organizational Behavior and Human Resource Management
Strategy and International Management
Entrepreneurship and Small Business
Social Issues in Management
Sustainability and Green Management
Management Practice
Public Policy, Administration and Non-Governmental Organizations
Announcements
Conference: Cairo 2023 - Registration

Registration Fees:

 

Posted: 2022-08-26
More...

Conference: Avoiding Duplicate Accounts

Some of you are already in this submission system, especially Track Chairs from Egypt 2023 conference. If you try to create a new account and you get an error stating that the user already exists, you should use the password reset link to reset your password. Please do not try to create a new account if you already have account in the system. We want to avoid duplicate accounts in the system.

Posted: 2019-05-28
More...
Conference Information