MESSAGE FROM AFAM PRESIDENT
March 8, 2020

Dear AFAM Members,
Belated New Year Greetings!
I am wishing you New Year Greetings now because our conference in Lagos Nigeria, was our preoccupation in December and early January. So, I hope you understand and accept my belated wishes of a prosperous year..
 
I am delighted to report that we had a very successful 5th Biennial conference at Lagos Business School, Pan-Atlantic University, Lagos, Nigeria from January 8-11, 2020. The conference theme is Globalization, Pan Africanism, and the African Business Climate. Despite some hiccups as I indicated in my December update and particularly with visa issues the participation was high. It was also very meaningful and enjoyable. We had exciting activities including symposia, caucus, professional development workshops, and experiential trips. To those who were there, thank you very much for your participation. We missed those who could not make it and wish you will join us for the next Biennial conference. There was global representation (49.6% of the participants were from Africa, 34.3% were from North America; 11.8% were from Europe, and 4%t from the Asia-pacific region), pan-Africanism and a focus on the African Business climate. 
It was announced that the 6th Biennial conference in 2022 will be hosted by the German University in Cairo, Egypt. We are preparing the brochure with important deadlines. Please spread the word about this conference. It marks the beginning of the next decade of AFAM. So, we want to increase the number of participants at our conference. That begins with members spreading the word and encouraging others to attend.
I would also like to inform you that the executives are planning some initiatives that would be very beneficial to members. I therefore encourage you to be active and to invite some of your colleagues to join AFAM. Our membership shows our belief in the transformation of Africa through Management knowledge.
In conclusion I ask that you join me in thanking the executives, particularly the Program Co-Chairs, who sacrificed so much of their time to make the 5th Biennial Conference a success. They deem the viability and growth of the organization as very important.
 
I conclude by saying again, THANK YOU VERY MUCH for your membership and involvement in the 5th Biennial Conference in Lagos. We really cherish your engagement with AFAM. May I encourage you and your colleagues to be active members of AFAM. It is through active involvement that we can make AFAM a transformative organization. The executives and I are determined to fulfill our mission of ADVANCING MANAGEMENT SCHOLARSHIP AND PRACTICE IN AFRICA.



     David B. Zoogah, PhD
     President. 
OBITUARY ANNOUNCEMENT
Celebrating Terri Lituchy's Life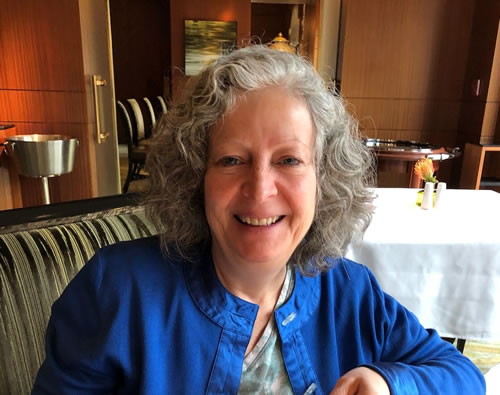 Terri Lituchy lost her battle with cancer and passed away on March 3, 2020 at the age of 56. 
She was generous to her friends, kind to strangers, committed to her work and was tireless in advancing management scholarship in Africa and its diaspora. She remained an exemplar of the human side of scholarship. She was also a dear daughter to her parents, much loved sister to her brothers and a favourite aunt to her nephews and nieces. More importantly, Terri has touched each of our lives uniquely and in very meaningful ways. While we mourn her passing, her memory remains with us as large as her life was and here I reminisce. 
At a personal level, Terri was a close friend, confidante and conscience keeper for me for a very long time. Terri and I had been colleagues in the same department at the Molson School of Business in Montreal for several years. During that period we had worked on research projects, co-authored papers, had been on the same committees, and had worked on international assignments in the Caribbean, Japan and China.  We overlapped each other in a capacity-building program in the Caribbean as part of an international development initiative. Subsequently, she came to work at McMaster University and we continued to work on various projects together until last August where she shared the work she has been doing on leadership development in the African diaspora.
Most people in the field of international management and organizational behavior both in Canada and in the US know of Terri Lituchy.  She is an active academic with an impressive record of publications, conference presentations, and research grants from Canada and the US. Simply put, she is a valued member of the academic community.  What I want to do here is to give a glimpse of the kind of contributions she has made to the global community in general and to Africa and the African Diaspora in particular. In recognition, she has been awarded a Fulbright scholarship to carry out her research in the Caribbean.
Terri was deeply committed to her work – teaching and research, advancing knowledge and sharing it with those who need it most.  I know the enormous amount of time she gives to, and the effort she takes in preparing for her classes.  Since both Terri and I had taught the same course, we often compared notes.   She also spent considerable time outside the classroom talking with her students, both on campus and in the global community. The important point here is that her commitment is unwavering: Terri will spend the same amount of time and expend the same amount of energy, if need be, with an undergraduate student taking an introductory course as she would with a doctoral student in an advanced seminar that she teaches, or a trainee at an international workshop.  
Terri is a wanderlust. The globe was her stomping ground. Terri started her career in Japan, learning the language and culture. Subsequently, she was involved with the Czech Management Centre, helping them in their efforts to transition from a command economy toward a market economy, shortly after their velvet revolution. Then she was helping the Canadian International Development Agency in a capacity building effort at the University of West Indies in Trinidad. This has ignited her interest in the Caribbean and resulted in her moving to the University of the West Indies in Barbados and starting a leadership development program for the African diaspora. Subsequently, Terri was again engaged in capacity building at CETYS Universidad in Mexico, helping them develop their doctoral program and establishing connections with surrounding industry, benefiting both. Then she decided to combine her twin interests of travel and teaching and became a professor of management for the Semester at Sea program, teaching  management on a cruise ship that circled the world. 
Until her untimely demise, Terri was leading an international project on leadership with the focus on Africa and the African Diaspora supported by grants from various agencies.  I had seen the work she was doing that was both scholarly and developmental. I was very impressed by the leadership Terri provided to the team. She was able to keep a large group of scholars from different parts of Africa and the African Diaspora, totally engaged and totally committed to her efforts. 
Those of us who have known Terri will miss her presence. But her life and the way she lived her life is worthy of celebration. 
Vishwanath Baba
McMaster University