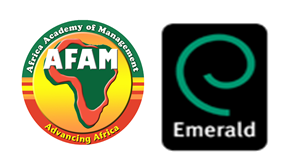 Call for Nominations
THE 2020 EMERALD AFRICA ACADEMY OF MANAGEMENT TRAILBLAZER AWARD


The Africa Academy of Management is seeking nominations for the 2020 Emerald Africa Academy of Management Trailblazer Award.
Purpose of the Award: The purpose of the Emerald Africa Academy of Management Trailblazer Award is to recognize a scholar who has taken a leadership role in promoting and advancing management knowledge in and about Africa. While scholarly contributions are important, this award seeks thought leaders who influence change by propagating the advancement or creation of management knowledge for Africa.  Nominees should have distinguished themselves by making significant contributions to management and organizational phenomena in Africa or in the development and improvement of management knowledge in organizations/communities in Africa. Examples of actions that may indicate "trailblazing" behaviour but by no means limited to include:
Exemplary research contributions to knowledge about management issues in Africa;

Moving forward a content-related journal or scholarly publication series,

Leading impactful research projects or research teams that build the research capacity of academics in Africa and also contribute to knowledge.

Community/Organization leadership that significantly created or promoted opportunities for advancement of management knowledge and practice.
In addition to one of the above contributions, nominees must demonstrate a record of active participation in the mission, work and activities of the Africa Academy of Management. 
The award will be confirmed at the 5th Biennial AFAM Conference January 8-1, 2020 in Lagos, Nigeria.   
 Nomination Process:  Nominations in the form of a letter should be sent to Professor  Elham Kamal at elhamkamal@gmail.com.  Please include AFAM TRAILBLAZAR NOMINATION in subject line.  Nominations close September 15, 2019. 
Once formally nominated, candidates may be asked to submit additional documentation to the Trailblazer Selection Committee.